Call +1 352 303 7909 NOW for information or to book your hunting and fishing adventure of a lifetime!
Hunting Trophy Gator at Ross Hammock Ranch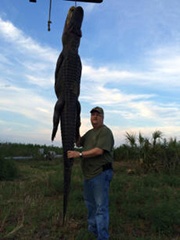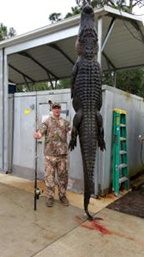 Many recognize the Florida alligator hunts offered by Ross Hammock Ranch to be the best available in the entire state of Florida. Especially if you would  like to harvest an "EXCEPTIONAL" gator. Here is why and how we have earned this reputation.
First, shouldn't you go where the pro's go? YES you can! Our gator guides provide alligator capture equipment for the University of Fl, Texas Tech, Florida Fish and Wildlife, as well as many nuisance trappers and other alligator programs across the South East. Our guides have placed multiple alligators in the Safari Club International (SCI) record book.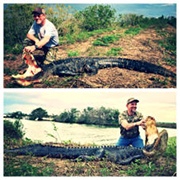 We offer TROPHY GATOR HUNTS YEAR ROUND!
Your hunt will be conducted on the private wetlands that are producing the best gators at the time of year that you book your hunt! This ensures that you have the highest chance of success, and the best chance to take an exceptional gator! We go to where the big gators are!
We hunt from either a 13 foot air boat, a 21 foot bay boat, or a swamp buggy. We base our method of hunting on the particular area we are hunting at the time you book your hunt, as well as the client's preferred method for harvest. We typically gig the gators, or take them with a crossbow, or shoot them with a rifle.
These hunts are very popular, so call today to make your reservation!